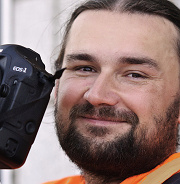 Copyright
All photos published on this website are taken by me mersonally and I retain all copyright rights. If you would like to use my photos for personal and/or non-commercial purposes (e.g. wallpaper to hang on your wall, presentation for school, etc), please let me know - I am generally open to sharing individual images for such usage.
Any commercial use of my photos requires an explicit agreement and a license. Please contact me for details.
If you like my work and would like me to cover your event / take some pictures of your aircraft, etc. please let me know. Depending on the tradeoff (i.e. what photo opportunities that opens for me) I may be willing to do it for a modest fee, just expenses covered, or maybe even for free (e.g. air-to-air sessions) - you will always get some decent photos with a friendly, non-exclusive usage license.






Contact
Mobile: +41 79 2948241
E-mail: dan¡el@rychc¡k.com
LinkedIn: Daniel Rychcik
(English/French/German/Polish)